Navigation
---
---

Name changes to Easterbrook
These individuals were not born Easterbrook but adopted the EASTERBROOK surname later in life, either by taking or given a step-father's surname or by personal choice.
Ursula Catherine HANCOCK
William Thomas Digman HANCOCK
Florence May EASLICK 1889-
|
|

---

---

---

|
Ursula Catherine 1918-1941
&

1940

Jack Donald VANSTONE
Ursula is recorded as Easterbrook in the 1939 register and her marriage in 1940.
Herbert SPITTLE
Herbert was adopted by his Aunt and Uncle
Brian John EDE
Brian took his step-father's surname.
Catherine EASTERBROOK
Catherine was a foundling.
Terence GOOCH
Terence was registered with his mother's first married name but changed to EASTERBROOK 2 years after she remarried.
George SHANNON
George took his step-father's middle and surnames.
Henry Roebuck EASTERBROOK
Henry was adopted by his aunt and uncle.
John Snow/Stanley J EASTERBROOK/PRESSAGH
John was born between his mother's first and second marriages, taking the surname from the first. He is recorded as both John Snow and Stanley J.
Mary Jane Elliott EASTERBROOK
Mary Jane is recorded as the base child of Elizabeth after her husband abandoned her and moved to Canada.
Henry Thomas LEONARD
Henry Thomas was born to Alice LEONARD 3 years before she married Thomas Henry ESTABROOK.
Florence R TANK/ESTABROOK
Florence was born to Florence G TANK just before she married Ernest Henry. This seems to be the same Florence R who gives her birth as 1916 in later records.
Eric V FRY/EASTERBROOK
...

&

1924

Hubert Henry EASTERBROOK 1899

|
|
|
|
|
|
|

---

---

---

---

---

|
|
|
Eric was born to Kate Fry and later adopted by Hubert EASTERBROOK after he married Kate.
Reginald/Richard EASTERBROOK
Reginald Easterbrook aliases Harry White, Tailsby, Albert Dunmore, Reginald Tucker, Cush, Smith, Harry Trelby, Richard Easterbrook, Tiddesley, Tyldesley, Tidsley, Tilsey, Ted Coles, Tinsley and Harry was a criminal mentioned in police wanted gazettes during the 1920's for fraud. He was in Dartmoor Prison in September 1939 when the War Register was compiled. I do not know which of the many aliases is his real name.
Thomas Henry GRIFFITHS
Emily Clara GRIFFITHS 1862-

...

&

1884

Thomas John EASTABROOK 1859-

|
|
|

---

---

---

---

---

---

---

---

---

---

---

---

---

---

---

---

---

|
|
|
|
|
|
|
|
|
|

Emily Clara EASTABROOK 1889

Julia Louisa EASTABROOK 1896

Violet Elizabeth EASTABROOK 1903

Arthur Frederick EASTABROOK 1910

...

&

1914

Kathleen Bertha YEARLEY 1882-

...
Thomas Henry was born to Emily Clara GRIFFITHS 3 years before she married Thomas John EASTABROOK and took his surname. He married Kathleen Bertha YEARLEY who already has a daughter.
Kathleen Bertha YEARLEY 1882-

...

&

1914

Thomas Henry GRIFFITHS 1881-

|
|
|
|

---

---

---

---

---

---

---

---

---

---

---

|
|
|
|
|
|
---
The families listing on this page and all the family trees on this site are generated by: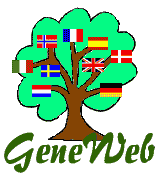 GeneWeb
GeneWeb is a genealogy software program with a Web interface. It can be used off-line or in a Web environment. It uses very efficient techniques of relationship and consanguinity computing, developed in collaboration with Didier Rémy, research Director at INRIA, France.
GeneWeb, free software with a GNU license, is available for Unix, Windows and Mac (OS X).
GeneWeb est un logiciel de généalogie doté d'une interface Web, utilisable aussi bien sur un ordinateur non connect au rseau qu'en service Web. Il utilise des techniques de calcul de parenté et de consanguinité extrêmement efficaces, concoctés en collaboration avec Didier Rémy, directeur de recherche à l'INRIA.
GeneWeb, logiciel libre avec Licence GNU, est disponible pour Unix, Windows et Mac (OS X).