Navigation
---
---

Year of Death Index
This list contains those born or married with an Easterbrook or variant surname and so contains persons who had a different surname at death. If not otherwise used, the surname at death in shown in [] such as those who re-married.
---
The families listing on this page and all the family trees on this site are generated by: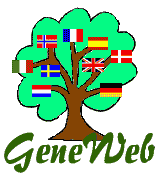 GeneWeb
GeneWeb is a genealogy software program with a Web interface. It can be used off-line or in a Web environment. It uses very efficient techniques of relationship and consanguinity computing, developed in collaboration with Didier Rémy, research Director at INRIA, France.
GeneWeb, free software with a GNU license, is available for Unix, Windows and Mac (OS X).
GeneWeb est un logiciel de généalogie doté d'une interface Web, utilisable aussi bien sur un ordinateur non connect au rseau qu'en service Web. Il utilise des techniques de calcul de parenté et de consanguinité extrêmement efficaces, concoctés en collaboration avec Didier Rémy, directeur de recherche à l'INRIA.
GeneWeb, logiciel libre avec Licence GNU, est disponible pour Unix, Windows et Mac (OS X).